Ce terrain était celui que Dieu avait choisi pour nous
A dream come true !!!
It all started with a dream in 2015! Having land in Spain a Christian community with the aim of responding to the mandate of Jesus with a place where people will be equipped and sent according to the mission order that is in Matt 28v 19

Go, make disciples of all nations, baptizing them in the name of the Father, the Son and the Holy Spirit, and teach them to observe all that I have commanded you ...


A place of refuge and survival for difficult times.

After having visited several sites in 2018, we concluded that the 7th site visited was that which God had for us: 1 hectare 500 dedicated to God 3 km from the sea and from the city center of Alcossebre in the region of Valencia. We bought this land, fenced it and installed four mobile homes.

After visiting several fields with my husband and my friend Bernard, we were convinced of God's plan for us in Spain. We immediately worked on the project in relation to the site visited. I then shared an email on our network of friends and many joined us with this heart and this vision of serving the Lord and his neighbor.
Luke 10v 27 You shall love the Lord your God with all your heart, with all your soul, with all your strength, and with all your mind; and your neighbor as yourself ...

Jean-Paul and Virgine from Paris; Claire C ; Valérie and her daughters from Annecy; Thérèse, Vincent , Bastien and Melanie from Switzerland; The Mandin family from Vendée; The Bourgas family from Cannes; Kady near Orleans; Maëlys from Beziers and finally Bernard, my husband and myself Rachel from Toulouse, together bought this land.

Some of them will come only for vacation time, others make this place their base between two missionary trips and for the more robust like me, we will live there year-round in community to meet God's call on our lives!


Rachel et Samir Koriche
Sauvés de la toxicomanie pour Rachel et du trafic pour Samir, nous avons consacré notre vie à Dieu pour le servir. Après plusieurs années de formation et de collaboration avec les ministères apostoliques, nous avons formé des dizaines de disciples dans les nations (pays d'Afrique et d'Europe) et participé à la multiplication des églises de maison.
Rachel: Après plusieurs mois de formation à l'école de Melkizedek, mon cœur est d'élever toute une génération de guerriers aimants dédiés au service de la présence de Dieu.
Bernard Delres

Scientist at Airbus, the revelation of Christ touched my heart. Since then, I have dedicated my life to researching the mysteries of God in intimacy with Him to know him and make him known. The pearls which are revealed to me and prayer gives me the privilege of participating in the preparation of the Bride! After several weeks of training at the Melkisedek school, my desire is to take up the challenge of the Davidic priesthood in our lives.

Valérie Guardia

At the age of 7 years Jesus revealed himself to me, He trained my hands in combat, my ears to listen and my heart to love. After several years of helping relationship training with Ellel Ministrie, I got involved with suffering women to work on their inner healing and allow them to return to their true identity.

Vincent Agini

Former actor in Paris, today I like to share the gospel message in the streets with the gifts that God has given me. In a spirit of listening and service, I let myself be animated by this fire and this passion that burns in me in order to participate in the construction of his kingdom here below.
In collaboration with a brother, we regularly organize training and kickstart times (Like they do in TheLast reformation movement) to allow everyone to enter into a lifestyle of committed disciple.
Therèse Greff

Born in Alsace, of Christian family, I was attracted from a very young age by the heart and the compassion of Christ. After training in hospitality, I left everything and devoted myself to missionary work to respond to God's call on my life. Engaged in street evangelism, and house churches, I go to the mission field several months a year.

Melanie Richard

Of Swiss origin, I grew up in a missionary family as part of youth in Mission. After several years of desert in my adolescence, I was reminded of God with this heart and this passion for mission and evangelization with as a central point in my life; Serve the presence of God in a house of prayer.

Jean-Paul&Virginie Camblor

Jean-Paul works for a deliverance ministry, Virginie works on interior healing, all. Their concern is to allow Christians to obtain freedom in Christ and enter their destiny.Jean-Paul: trained at Christ for the Nation Bible School in Dallas, Texas for 3 years and with the issuing ministry "ELLEL ministries"
Virginie: having a ministry of inner healing, I followed a biblical helping relationship training with family I love you, I am currently studying psychology in order to better understand human functioning.
Bastien Fuchs

In 2015, Jesus revealed himself to me and gave a deep meaning to my life. A farmer by training, I have traveled to several countries to develop agricultural projects, to share the good news, release the captives and heal the sick. My heart is to live this dimension of the family of God on earth while remaining attached to Jesus. After several months of discipleship training in Denmark, I in turn train disciples in street evangelism.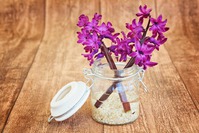 Claire C

Claire C
Is an entrepreneur and trainer in entrepreneurship and project management. Her triple passion for Yeshua, the Parisian district of Montmartre and children led her to develop Christian visits for schoolchildren. .
---